Behind the Barn Door
It's our 5th year in business and to celebrate, I am sharing my first Top 5 list – the lessons I've learned while running a floral business.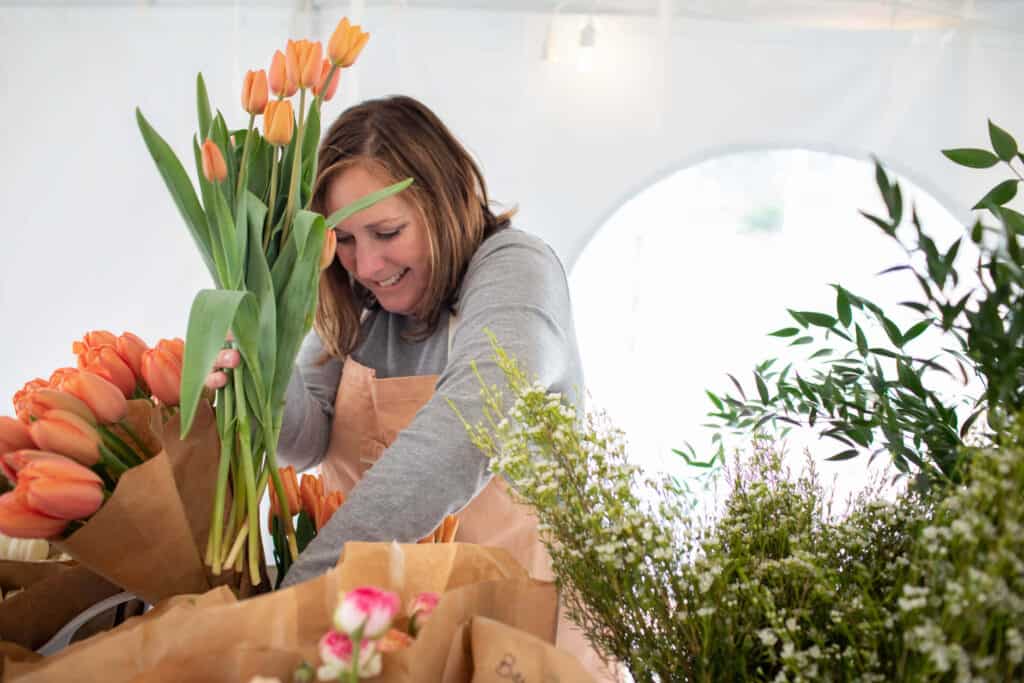 1. Teamwork makes the dream work
No one should be running a floral business (or any business) alone! It is literally an entire village that has enabled me to live my dream of floral entrepreneur life. From the incredible flower farmer that taught me how to work with local blooms at the end-of-season harvest, to the preschool parking lot moms who watched my kids on the fly when I had to pick up blooms last minute. Or there was the time my husband helped tag all of my Thanksgiving arrangements late at night while I tried to wrap up the last of the pre-orders desperate to call it a day. You need a strong foundation of people who believe in you and your dream to make it work. It takes fortitude to keep dreaming big, as you tumble and get back up, all while executing along the way. What is required of that village is some days unimaginable. But find your village, let them in, and graciously accept the talents and time of your team.
2. Progress over perfection
Yes, you strive for everything to be perfect – from your fabulously automated website to your savvy social media, to the way each bouquet looks as it heads out the door. But if you spend all your time fine-tuning, you'll never get that foot (or bouquet or website) out the door. Whether the journey includes slow improvements or big stumbling failures – you're making progress. Sometimes letting go of what's ideal and simply putting one foot in front of the other is the best way to get to the next place while running a floral business. I've learned that to grow, I've had to let things go. I literally had to "loosen up my grip" while designing a bouquet because my fingers were clenching trying to get each stem exactly in place. But imperfection is also perfectly beautiful – after all, isn't that nature, fleeting and imperfect? Holding too tight to anything just crushes productivity (and stems!). I'm still learning, growing, evolving, and improving every day. I'm making progress even if it's not perfect.
3. Don't be afraid to invest in the right business services
You can't be the best at everything as a small business owner. Maybe you're fabulous at your craft, a talented project leader, online designer, or you know how to fix the printer jam every time. (I mean, don't we all want to call an IT department at some point?) At some juncture, it just makes sense to bring in HELP for the areas that we are not experts in. For me, that was bookkeeping and website building. Did I try it on my own first? Of course, I did! I built my first website on WIX and taught myself how to set up linked pages. I set up QuickBooks with the absolute intention of freeing myself from endless excel worksheets. And… I quickly realized, that this is not my skill set and there is just not enough of me to do all of the things needed to run a successful business! To grow, I had to invest some money in business services that made sense for me so I could focus my time and energy on where it was best spent. Investing in the right people to support your business is investing in you and will allow you to truly grow where you shine.
4. Be yourself
If I've learned anything in the last five years, it's to be yourself authentically. No one else can be you. Believe in your unique self to attract the right clients, talent, friends, collaborators, and vendors. If you are genuine and honest, you'll find other like-minded individuals who will raise you up. YOU are the root of everything in your business. Your talent will shine with its unique, inherent nature. When the rain clouds come in, and you doubt, question, and compare (we all do it… Instagram). Please remember that no one is you and the universe has a plan for you – and if you don't believe that, believe in yourself – because confidence is beautiful and brave. Be unapologetically YOU, and your roots will grow and bloom.
5. Learning the hard way is part of the journey
I frequently say to myself, "But WHY am I still learning the hard way?" or "Is there an easier way to learn these things?" It's as if I just can't learn any other way than the hard way. I have made SO. MANY. MISTAKES. But each one of these challenges (once I'm done crying, doubting, and picking myself up off the floor) has offered me a lesson that I probably wouldn't have learned better any other way. Sure, the easy way does sound good – books, podcasts, coaches, but sometimes the sun has to come over the garage and force the hundreds of tulips to suddenly explode open before Mother's Day, or the Valentine's Day pop-up shop just might surprise you with how many couples are actually already prepared with flowers (busted!), or maybe, just maybe you didn't need 200 pounds of evergreens to make those 50 wreaths and now you have a burn barrel in the yard watching flames of money go up. Yes, I had to learn it the hard way. There wasn't always a better way, but there were always lessons learned that I appreciate. And despite all the sweat and tears, these are the stories that I now look back on and laugh at, as I proudly write this post celebrating my first 5 years in business… Cheers to the next 5!
And… more to come!
Stay tuned for more TOP FIVES:
Our growing roots
The journey and lessons
The people that have kept us thriving
What's blooming next!